Wealth Management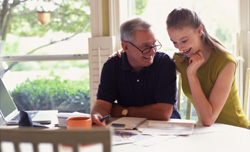 For individuals and families with high net worth, Kusek Financial Group provides wealth management al planning. As a leading Wilmington financial services company, Kusek Financial not only manages your investments but also guides you in estate planning, in tax planning and to the best legal resources with the ultimate goal of sustaining and growing your long-term wealth.
Kusek Financial Group offers the following wealth management services:
Personal Wealth Strategies
The first step in forming a personal wealth strategy is defining your financial goals ? both short-term and long-term. Once we work with you to develop your personal wealth road map, Kusek Financial Group acts as mission control for helping you towards your goals. We monitor progress and offer guidance if adjustments to the course need to be made.
Investment Management
We believe in a "hands on" approach to financial guidance. Because every client who comes into our office has different needs and goals, each one walks out with a custom-designed strategy to address them. Kusek Financial is based on the principle that understanding your current financial situation is vital to successfully make prudent decisions concerning your future financial condition.
Insurance Solutions
Planning and preparing for all possible scenarios are why our clients continue to trust us at the helm of their financial "mission control room." This is why we emphasize the importance of setting up the right insurance coverage. With this in place, you can be assured that any holes between your existing financial situation and your future goals will be filled.
Retirement Services
The good news is that we are living longer; unfortunately that's the bad news, too. Many people will spend more years in their retirement than they did in their careers. Comprehensive retirement planning is critical to living confidently for a lifetime.
Estate Planning
Managing personal wealth so you and your loved ones can enjoy the good things you've worked for is the goal of estate planning. Kusek Financial works with individuals and families every step of the way toward this goal.